Learn how to remove your lawn without tearing it out! It's surprisingly easy to convert your lawn into a healthy garden with sheet mulching.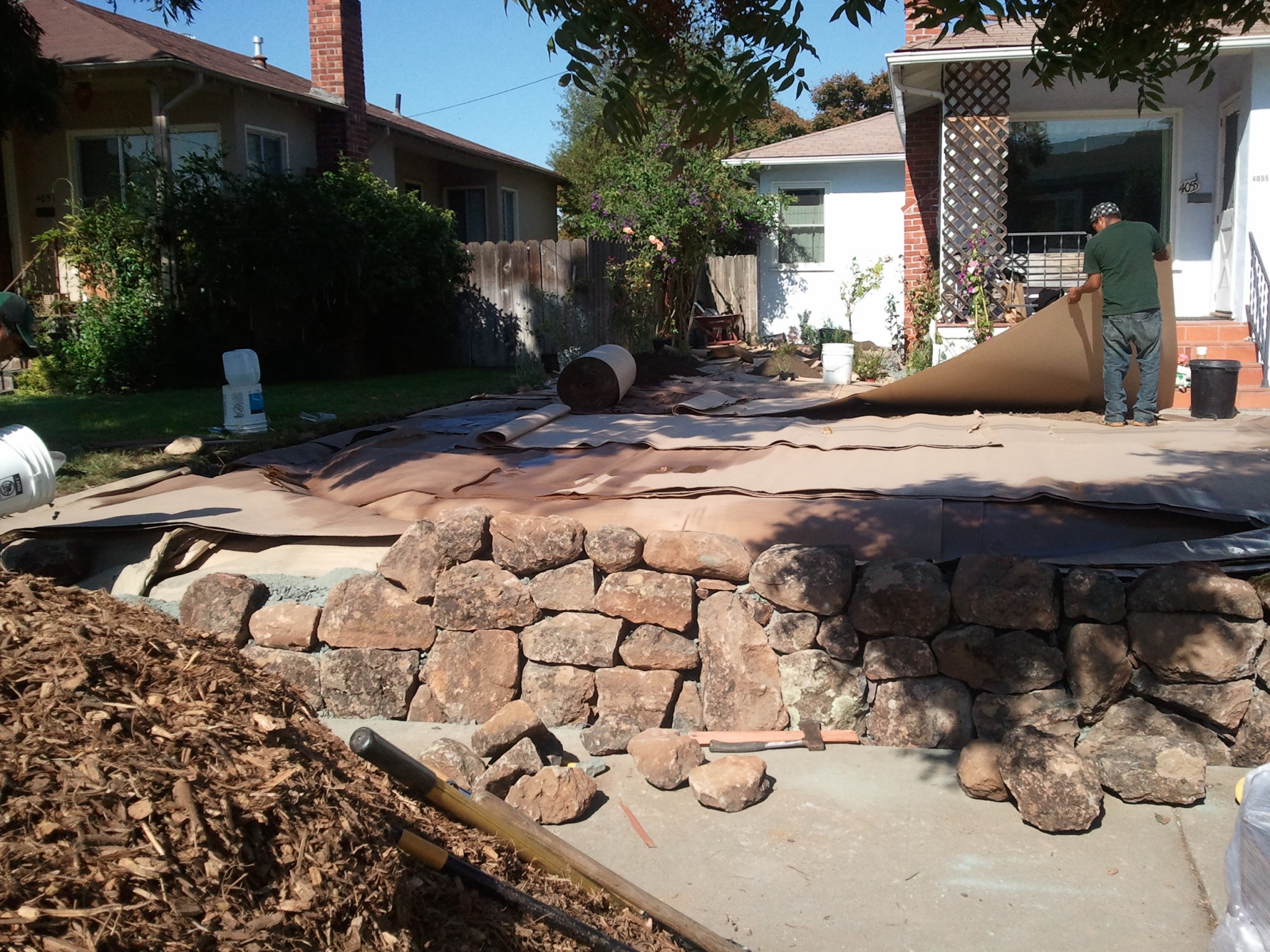 Above: Photo provided by Terra Nova Ecological Landscaping
Sheet mulching is a simple technique used to enrich the soil in planting areas, establish a new garden area, or remove a lawn without using herbicides.
Sheet mulching involves placing a biodegradable weed barrier such as recycled cardboard on bare soil or on top of mowed or flattened weeds or grass. You then place compost and mulch in layers on top of the weed barrier, mimicking the way that layers of leaves build up on forest floors.
Trees, shrubs, perennials and annuals can be planted through the sheet mulch, and small areas can be left open to accommodate existing plants.
Sheet mulching conserves natural resources, prevents pollution, and saves time and money.
HOW-TO
Sheet Mulching Instructions – Download this PDF for step-by-step illustrated instructions to remove and replace your lawn without herbicides. lyl-sheetmulching-1
Bay Friendly Sheet Mulching Video
Helpful Resources
• Organic Materials Exchange: Find free and low cost mulch from tree-trimming companies and composted horse manure by entering your zip code.
• On-line Mulch Calculator: Determine how much mulch you will need to purchase by entering the square feet of landscaped area and mulch depth.
Where to buy compost and mulch in Santa Cruz County
Buena Vista Landfill, 1231 Buena Vista Drive, Watsonville
Ben Lomond Transfer Station, 9835 Newell Creek Road, Ben Lomond
5035 Freedom Blvd, Aptos, (831) 688-6211
Santa Cruz - 808 River Street, (831) 423-0763
Scotts Valley - 180 East Pueblo Road, (831) 440-0763
Where to buy compost and mulch in Monterey County
Monterey Regional Waste Management District
Monterey Peninsula Landfill, 14201 Del Monte Blvd., Marina
Sun Street Transfer Station, 139 Sun Street, Salinas
Johnson Canyon Landfill, 31400 Johnson Canyon Road, Gonzales
71 Elkhorn Road, Royal Oaks, CA 95076 (831) 728-0111
Keith Day Company/Gabilan Ag Services
1091 Madison Lane, Salinas, CA 93907 (831) 771-0126
Bokay Nursery
30 Hitchcock Road, Salinas, CA 93908 (831) 455-1868
Where to find cardboard for sheet mulching
If you are looking for free sources of cardboard, large boxes are best. Visit appliance stores, pool and spa supplies, and other locations where large items are sold. Always ask the store manager's permission to take cardboard from the property.
Sells 4' x 250' rolls of B-flute recycled cardboard
151 Josephine St., Santa Cruz, (831) 423-3350
Sells 4' x 250' rolls of B-flute recycled cardboard
140 Calle Del Oaks Place, Del Rey Oaks, (831) 899-1081
Examples of Turf replacement with sheet mulching
Above: Turf Replacement with Sheet Mulching at Rosicrucian Museum, San Jose. Photo provided by Ecological Concerns, Inc.
Above: Residential Turf Replacement with Sheet Mulching and Permeable Pavement - Photo provided by Ecological Concerns, Inc.
Above: Turf Replacement with Sheet Mulching, Watsonville/Aptos Adult School. One year after planting.